Pola HP14 - 2 set point digital humidistat / humidity control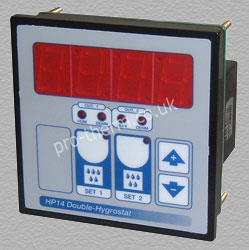 Downloadable instructions:

General Description
HP14 is a Dual set point digital humidistat for monitoring and control of humidity in one zone at 2 levels.
Humidification and Dehumidification may be simultaneously controlled.
The electronic humidity sensor is not supplied unless requested HR03, XH20P, HMD40U and HMD40Y are electronic humidity sensors with ranges of 10 to 90% are available.
Available in 96 x 96mm front panel mounting or IP54 surface/wall mount.
Large 20mm display makes for easy reading.
An added feature is the automatic recording of max. and min. humidity for later viewing
*Prices exclude vat and delivery
Technical Specification
Power supply                                                               220V +/- 10%
Mains frequency                                                           50Hz +/- 20%
Power consumption                                                      4W
2 x fused SPDT Output Relay:
Resistive contact rating                                                3Amp 220V
Inductive contact rating                                                1 Amp 220V
Measuring range                                                          10.0/99.9% rh
Operating temperature                                                 -10/70 Deg.C
Overall dimension                                                         96x96x63 mm
Overall dimension (IP54 version)                                    98x125x75 mm
HALI power supply for use with some humidity sensors