Pola HP19 HP19a - Programmable Digital Timer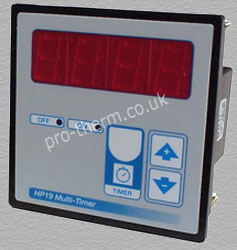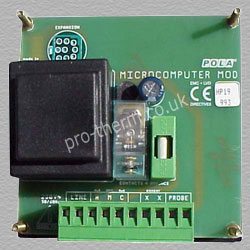 Downloadable instructions:

*Prices exclude delivery
General Description
HP19, HP19a is a multifunction, programmable timer suitable for many applications. It has upto 4 time settings which can each be easily selected remotely.
Available as 96 x 96mm front panel mounting or IP54 surface/wall mount, it's large 20mm display makes for easy reading.
HP19 has a change-over output relay which can be switched by various methods:-
Delay on,
Delay off
Impulse
Delayed impulse
Numbered impulses
Cycle
Timing can be: Count up or Count down
Times can be:-
Seconds with decimal 0.0 to 999.9
Seconds  0 to 9999
Minutes with decimal 0.0 to 999.9
Minutes 0 to 9999
Minutes and seconds 0 to 99'59
Remote operation
is possible to 'start' and 'stop' the HP19, also has upto 4 selectable times.
Technical Specification
Power supply                                         230V +/- 10%
Mains frequency                                     50Hz +/- 20%
Power consumption                                4W
2 x SPDT Output Relay:
Resistive contact rating                          3 Amp 230V - AC1
Inductive contact rating                          1 Amp 230V - AC3
Operating temperature                          -10/70 Deg.C
Overall dimension                                  96 x 96 x 63 mm
Overall dimension (IP54 version)             98 x 125 x 75 mm