AKO-13112, AKO-13120 and AKO-13123 small size digital thermostat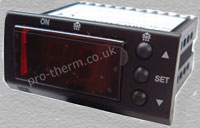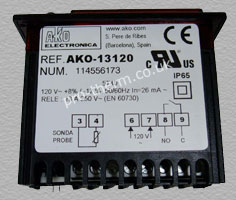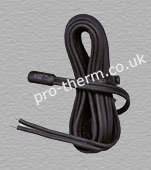 *Prices exclude delivery (Choose quantity at checkout, please call for 5+ discount)
Downloadable instructions:

General Description
AKO-13112, AKO-13120 and AKO-13123 are small size (32x66) single set point digital thermostat for control of temperature in heating, cooling or refrigeration applications where only space is tight. It has similar functions to the larger AKO-141xx series.
It can be used to control heaters, chillers, fans, pumps, bottle coolers, fridges, display cabinets, heated food trolley etc. For refrigeration applications, it has off cycle defrosting.
Sensor
An ntc thermistor sensor on a 1.5m lead is supplied with an operating range of -50.0/99.9 Deg.C  or  with a Ptc sensor, upto 150 Deg.C.
With adjustable hysterisis. and scale in C or F, the result is a versatile accurate thermostat.
Size
Standard 32 x 66mm front panel mounting with IP65 gasket. It's bright display makes for easy reading.
Electrical
Available for 12 Vac/dc, 120V and 230 Volts power supply
Relay output is 13 Amp single pole.