Pola HP46 - Incubator control, thermostat, humidistat and timer or turner, supplied with SX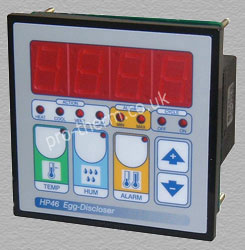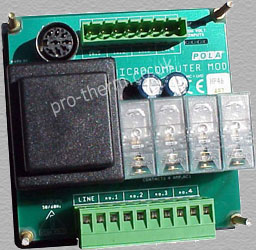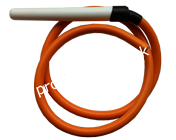 Downloadable instructions:

*Prices exclude delivery
General Description
HP46 is a dedicated incubator control for temperature control, humidity control, and either ventilation or turning for incubators and hatchers.
Temperature may be maintained via a heat relay or solid state relay drive or 0-10V with HISO output module plus a cool relay to 0.1 Deg C or F.
Humidity is maintained via one relay, from either a wet & dry temperature sensor system or an electronic humidity sensor (Not supplied unless specified).
Turn cycle sets number of turns per day and duration.
Ventilation output occurs when extra cooling is needed.
Alarms. An additional output exists, which with addition of HPAL relay module, to give optional high and low temperature alarms.
Enclosures available are 96x96x58mm panel mounting or 98x125x75mm IP54 surface/wall box.
Main Features
Temperature sensor supplied, range -50.0 to 115.0 Deg C or F   
One setting adjusts heat/cool/vent/alarm points together.
Programmable display for Deg C or F to 0.1.
Set points easily adjustable for end user.
High & Low alarms via optional HPAL relay module.
Output LEDs show control status.
Removable terminal strips for easy interchangability
Lockable set point to prevent unauthorised adjustment
On/Off or Proportional Humidity output
Max. & Min. temperature recording as standard
Technical Specification
Power supply                                         230V +/- 10%
Mains frequency                                     50Hz +/- 20%
Power consumption                                4W
4 x SPST Output Relays:
Resistive contact rating                          3 Amp 230V
Inductive contact rating                          2 Amp 230V
Operating temperature                          -10/70 Deg.C
Overall dimension                                  96 x 96 x 63 mm
Overall dimension (IP54 version)             98 x 125 x 75 mm
Optional HPAL alarm output module: