AKO-14721 - PT100 thermostat 12V, two stage/relay - now discontinued,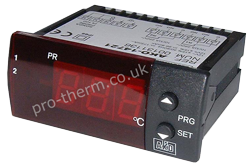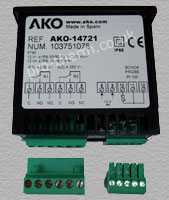 Downloadable instructions:

*Prices exclude delivery
General Description
AKO-14721 PT100 thermostat with 2 set points, 2 relay control of higher temperature or heat/cool.

It can be used as:
- heater thermostat,
- chillers thermostat,
- fans control,
- pump control,
- display cabinet thermostat,
- frying ranges thermostat,
- heated food trolleys thermostat, etc.

AKO-14721 may be set as:

- heating + cooling
- 2 stages of heating
- 2 stages of cooling
Sensor (not included)
Input is for 3 wire Pt100 sensor (can be supplied, please contact with spec for price).
AKO-14721 has an operating range of -50.0/600 Deg.C  .
With adjustable hysterisis. and scale in C or F, the result is a versatile accurate thermostat
Size
Standard 34 x 76mm front panel mounting with IP65 gasket. It's bright display makes for easy reading.
Can be supplied with a pre-cut box enclosure for wall mounting.
Electrical
Available for 12 Vac/dc power supply, we can supply a 230VAC to 12VAC step down transformer if required.
2x Change-over relay outputs, 8 Amp each