Sonder dial thermometer for high temperatures 50/350 Deg.C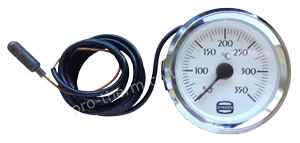 The Sonder high temperature dial thermometer is for panel mounting and has 1.5m capillary length with range of 50/350 Deg.C.
Front face 55mm diameter, panel cut out 52mm diameter.
*Prices exclude delivery, for quantity discounts please contact us.
Please choose quantity at checkout.
| Model | Range | Capillary Length | Price ex.VAT |
| --- | --- | --- | --- |
| {Description} | {Range} | {Input} | {Price} |