Pola HP44 - 4 zone digital thermostat. Includes 4 SX probes.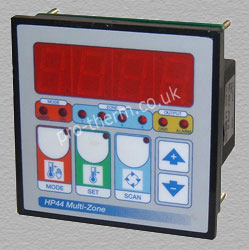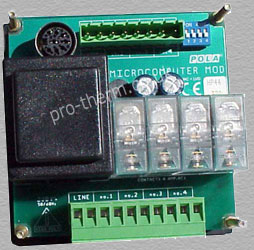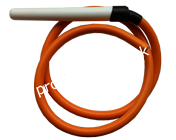 x4
Downloadable instructions:

General Description
HP44 is a 4 zone / 4 area digital thermostat for monitoring and control of temperatures in 4 zones using it's own 4 thermistor sensors (supplied), Pt100 sensors or 4-20mA source.
Each zone may be treated independently as each has its own set of parameters.
Auto scanning of all 4 temperatures may be set up.
As well as 4 set points, each zone has high and low alarm levels which with the addition of HPAL module, will give a further 2 outputs.
Adjustable differential and calibration each zone.
Zones may be 'linked' together for staged switching.
Available as 96 x 96mm front panel mounting or IP54 surface/wall mount, it's large 20mm display makes for easy reading.
Min. and Max. temperatures are stored for later viewing.
With 0.1 Degrees resolution, adjustable hysterisis from 0.2 Deg. and scale in C or F, the result is 4 versatile accurate thermostats in one unit.
*Prices exclude vat and delivery
Technical Specification
Power supply                                         230V +/- 10%
Mains frequency                                     50Hz +/- 20%
Power consumption                                4W
4 x SPDT Output Relay:
Resistive contact rating                          4 Amp 230V - AC1
Inductive contact rating                          2 Amp 230V - AC3
Measuring range (with SX)                    -50.0/115.0 Deg.C or -58.0/239.0 Deg.F.
Measuring range (with PT100)               -50/300 Deg.C
Measuring range (with 4-20mA Source)   0 to 100%
Operating temperature                          -10/70 Deg.C
Measuring precision (Ambient 25 Deg.C)  0.1 Deg.C typical
Overall dimension                                  96 x 96 x 63 mm
Overall dimension (IP54 version)             98 x 125 x 75 mm
Optional HPAL alarm output module: