Pola HP70 - 0-10v ventilation control with alarm and heating function. Includes SX sensor.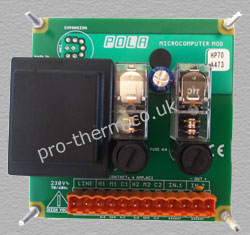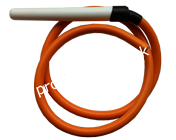 Downloadable instructions:

*Prices exclude delivery

General Description
Pola HP70 is a 0-10v proportional ventilation control with heating and high and low alarm relay outputs, for applications such as poultry houses.
Enclosures available are 96x96x58mm panel mounting or 98x125x75mm IP54 surface/wall box.
Main Features
Temperature sensor supplied, -50.0/115.0 Deg.C or F    
High & Low alarms via change over relay.
Heating via a change over relay.
Adjustable ventilation temperature band.
Ventilation minimum and maximum speeds programmable.
Set point adjustable relative to ventilation band.
Output LEDs show control status.
Removable terminal strips.
Technical Specification
Power supply                                                 230V +/- 10%
Mains frequency                                             50Hz +/- 20%
Power consumption                                        4W
2 x SPDT Output Relays:
Resistive contact rating                                   4 Amp 220V - AC1
Inductive contact rating                                   2 Amp 220V - AC3
1x 0-10v proportional output
Operating temperature                                   -10/70 Deg.C
Overall dimension                                           96 x 96 x 63 mm
Overall dimension (IP54 version)                      98 x 125 x 75 mm