AKO

-

D14120

-

120V 1 relay refrigeration, heating or cooling control/thermostat. Sensor included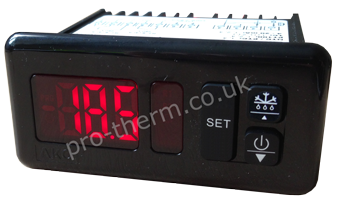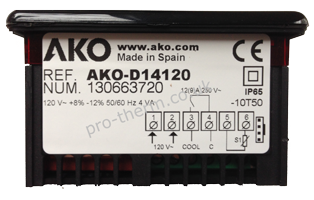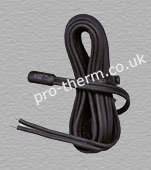 *Prices exclude delivery (Choose quantity at checkout, please call for higher quantity discounts)
Price ex.VAT (inc 1.5m sensor)
{Price}
Downloadable instructions:
General Description
AKO-D14120 is a 1 relay digital thermostat with a single set point for control of temperature in heating, cooling or refrigeration applications.
Can be used to control heaters, chillers, fans, pumps,  bottle coolers, fridges, display cabinets, heated food trolley etc.
For refrigeration applications the AKO-D14120 has off cycle defrosting.
An ntc thermistor sensor is supplied with it giving a range of -50.0/99.9 Deg.C. It can be used with a Ptc sensor to give upto -50.0/150 Deg.C range.
Standard 34 x 76mm front panel mounting with IP65 gasket. It's bright display makes for easy reading.
With 0.1 Degrees resolution, adjustable hysterisis from 0.2 Deg. and scale in Deg. C or F, the result is a versatile accurate thermostat.
For 12/24v please see AKO-D14112 and 230v AKO-D14123.
The AKO-D14120 is AKO's new alternative to the now discontinued AKO-14120.
Applications
Heating or cooling
Refrigeration control
Chiller temperature control
Greenhouse temperature control
Cooler control
Temperature alarm
Off Cycle defrost control
Spray booth temperature control
Poultry house alarm or temperature control
Frost protection
Leisure - swimming pool, saunas or steam rooms temperature control
Technical Specification
Power supply                                         120V +/- 8%
Mains frequency                                     50Hz +/- 20%
Power consumption                                3W
SPST Output Relay:
Resistive contact rating                          12 Amp 250V
Inductive contact rating                          9 Amp 250V
Measuring range (ntc)                           -50.0/99.9 Deg.C
Measuring range (ptc)                           -50.0/150 Deg.C
Operating temperature                          -10/50 Deg.C
Measuring precision (Ambient 25 Deg.C)  +/- 1Deg.C typical
Overall dimension                                  34 x 76 x 42 mm
Panel cut out                                        28.5 x 70.5 mm
Front panel protection                            IP65