Pola HP57 - Combined thermostat humidistat (electronic or wet & dry humidity sensing) SX inc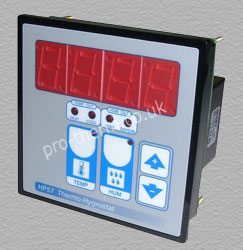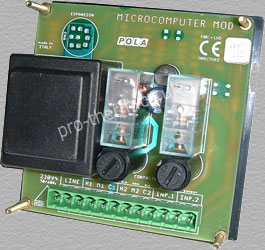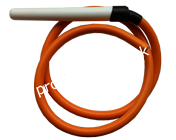 Downloadable instructions:

*Prices exclude delivery
General Description
HP57 is a dual function digital Thermostat and Humidistat utilising 2 temperature sensors for both temperature and wet and dry bulb humidity measurment. It then calculates from first principals the actual humidity.
The thermistor sensors have a range of –50.0/115.0 Deg.C or F and 0/100 % humidity.
Alternatively, electronic sensor HR03, XH20P, HMD42 and HMW82 may be used with HALI power supply.
Temperature and humidity are controlled at the same time.
Max. and min. temperature and humidity reached are recorded and can be seen later.
Temperature or humidity may be displayed.
Available in 96 x 96mm front panel mounting or IP54 surface/wall mount. Large 20mm display.
The unit is supplied with 1 SX thermistor sensor for temperature control. To utilize the humidity control function there is the option of adding a wet and dry or electronic sensor.
With 0.1 resolution, adjustable hysterisis from 0.2, the result is a versatile accurate combined thermostat and humidistat.
Applications
Air conditioning control
Grain drying thermostat
Crop drying thermostat
Textile handling
Environmental control
Swimming pool enclosure control
Greenhouses
Bread provers
Technical Specification
Power supply                                         230V +/- 10%
Mains frequency                                     50Hz +/- 20%
Power consumption                                4W
2 x SPDT Output Relay:
Resistive contact rating                          3 Amp 230V - AC1
Inductive contact rating                          1 Amp 230V - AC3
Measuring range                                   -50.0/115.0 Deg.C
Measuring range                                    0/100%
Operating temperature                          -10/70 Deg.C
Measuring precision (Ambient 25 Deg.C)  0.1 Deg.C typical
Overall dimension                                  96 x 96 x 63 mm
Overall dimension (IP54 version)             98 x 125 x 75 mm