Pola HP15 - 2 zone digital thermostat, Includes 2 SX probes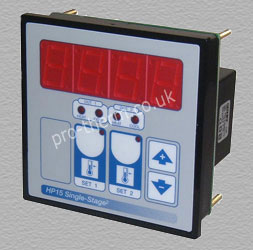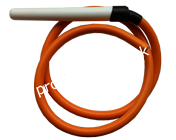 Downloadable instructions:

*Prices exclude vat and delivery
General Description
HP15 is a 2 zone digital thermostat for independant monitoring and control of temperature in 2 areas. ie. 2 different applications may be controlled from the same unit with different set points, sensors and sensor positions. This control is basicly two thermostats in one box.
2 thermistor sensors are supplied with ranges of -50.0/115.0 Deg.C  or  -58.0/239.0 Deg.F.
Available as 96 x 96mm front panel mounting or IP54 surface/wall mount, it's large 20mm display makes for easy reading.
With 0.1 Degrees resolution, adjustable hysterisis from 0.2 Deg. and scale in C or F, the result is a versatile accurate thermostat.
Technical Specification
Power supply                                         230V +/- 10%
Mains frequency                                     50Hz +/- 20%
Power consumption                                4W
2 x SPDT Output Relay:
Resistive contact rating                          3 Amp 230V - AC1
Inductive contact rating                          1 Amp 230V - AC3
Measuring range                                   -50.0/115.0 Deg.C
Operating temperature                          -10/70 Deg.C
Measuring precision (Ambient 25 Deg.C)  0.1 Deg.C typical
Overall dimension                                  96 x 96 x 63 mm
Overall dimension (IP54 version)             98 x 125 x 75 mm