Pola HP58 - 0-10V Digital thermostat or humidity control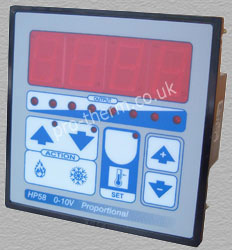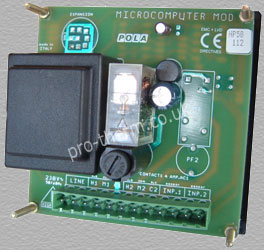 Downloadable instructions:

*Prices exclude delivery
General Description
HP58 is a 0-10v thermostat or humidity control with a single set point, programmable to monitor and control either temperature or humidity via 2 outputs: 1x 0 to 10 Volt and 1x 3A 230Volt changeover relay.
It is supplied with a thermister temperature sensor for the range –50.0 to 115.0 Deg C.
Alternatively, 4-20mA 2 wire, humidity sensor may be set .
NO electronic humidity sensor is supplied as standard.
If required, a suitable electronic humidity sensor HR03, XH20P, HMD40U, HMD40Y with a range of 10 to 95%, can be specified at extra cost.
Available as 96 x 96mm front panel mounting or IP54 surface/wall mount.
Large 20mm display.
An added feature is the automatic recording of max. and min. temperature or humidity for later viewing.
Technical Specification
Power supply                                                               220V +/- 10%
Mains frequency                                                           50Hz +/- 20%
Power consumption                                                      4W
1 x fused SPDT Output Relay:
Resistive contact rating                                                3Amp 220V
Inductive contact rating                                                1 Amp 220V
1x 0-10v proportional output
Measuring range                                                         -50.0/115.0 Deg.C
Measuring range                                                          0/100% rh
Operating temperature                                                 -10/70 Deg.C
Overall dimension                                                         96x96x63 mm
Overall dimension (IP54 version)                                    98x125x75 mm
HALI
power supply for use with some humidity sensors