Beta PTC300 high temperature thermistor temperature sensor probe. 2.0m cable.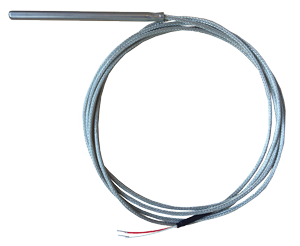 The Beta PTC300 high temperature ptc thermistor for temperatures upto 270 Deg.C. They can be supplied with the Beta thermistor based thermostats, such as the RC31 and DC32. Cable (3 cores) length is 2m and stainless steel tube part is 6x100mm.
PDF spec sheet for the sensor:

To order quantities please call for discount.
*Prices exclude delivery
(Choose quantity at checkout, please call for 5+ discount)
Online order UK delivery only - please contact us for delivery outside UK.
| Model | Price (ex VAT) |
| --- | --- |
| {Model} | {Price} |