Pola HP55 - Temperature programmer for timed heating with 4 set point/8 segment thermostat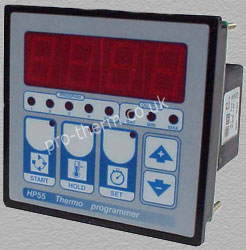 Downloadable instructions:

General Description
HP55 is a time programmable temperature control with 4 set point and PID temperature control suitable for ovens, kilns, furnaces etc.
Main Features
'Hold' setting for indefinate control of temperature until 'Start' is pressed to initiate programme.
Timed periods, 1 minute to 4 days may be set for each set point.
'Assured soak' can be programmed to automatically pause the timer if the temperature either hasn't reached or falls out of a temperature band.
One adjustable 'ramp rate' to each new set point ensures smooth transition between levels.
At the end of the programme, an 'end temperature' may be set or the system can be allowed to drift to ambient.
An 'end of cycle relay' is available to open dampers, signal end etc.
'High & low alarm relays' can be set individually to either 'track' the set point or to have an absolute setting.
A large 20mm high display indicates temperature in C or F, time elapsed in the cycle, percentage power output and max.& min. temperatures reached. LEDs indicate condition of programme, alarm and output relays.
Remote control of Start, Hold, End and Resume as standard help make common operations simpler.
Sensor type programmable for thermocouples J,K,R,S.T,N -250/+1700 Deg.C or F,  or
Pt100 -200/+550 Deg.C or F (Contact us for a price)
Additional Features:
Tamperproof locking contacts at rear allows 'key lock' security.
Self tune for optimal setting of PID parameters via SSR output.
0-10Volt output optional with HISO module.
Removable terminal strips for easy connection/disconnection.
Typical profile: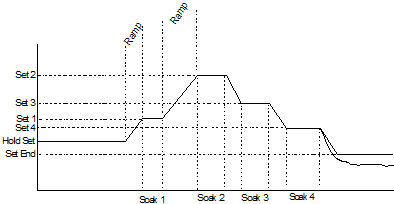 *Prices exclude vat and delivery
Technical Specification
Power supply                                                230V +/- 10%
Mains frequency                                           50Hz +/- 20%
Power consumption                                      4W
4 x SPST Output Relays:
Resistive contact rating                               3 Amp 230V
Inductive contact rating                               2 Amp 230V
Operating temperature                                 -10/70 Deg.C
Overall dimension                                    96 x 96 x 63 mm
Overall dimension (IP54 version)            98 x 125 x 75 mm