Pola HP17 - Digital thermostat with alarm. Includes SX probe.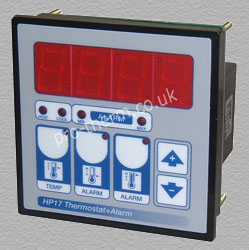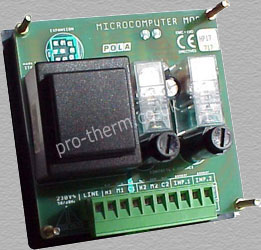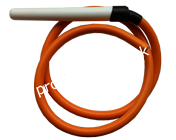 Downloadable instructions:

*Prices exclude delivery
General Description
HP17 is a single set point digital thermostat with alarm for control of temperature with additional high and low level alarm feature.
Alarm values may be set in program to prevent unauthorised adjustment.
A thermistor sensor is supplied with a range of
-50.0/115.0 Deg.C  or  -58.0/239.0 Deg.F.
Housed in 96 x 96mm front panel mounting or IP54 surface/wall mounting.
Min. and Max. temperatures are stored for later viewing.
Large 20mm display with 0.1 Degrees resolution, adjustable hysterisis from 0.2 Deg. and scale in C or F, gives a versatile accurate thermostat with over and under temperature protection.
Technical Specification
Power supply                                         230V +/- 10%
Mains frequency                                     50Hz +/- 20%
Power consumption                                4W
2 x SPDT Output Relay:
Resistive contact rating                          3 Amp 230V - AC1
Inductive contact rating                          1 Amp 230V - AC3
Measuring range                                   -50.0/115.0 Deg.C
Operating temperature                          -10/70 Deg.C
Measuring precision (Ambient 25 Deg.C)  0.1 Deg.C typical
Overall dimension                                  96 x 96 x 63 mm
Overall dimension (IP54 version)             98 x 125 x 75 mm