Pola HD range
We can supply any of the Pola HD range, please contact us to discuss requirements.:
Pola HD38 - Six stage vetilation controller with heat and alarm outputs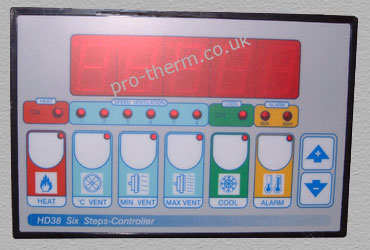 Downloadable instructions:

Agricultural/horticultural 6 stage ventilation controller with heating and high/low alarm outputs.
Pola HD40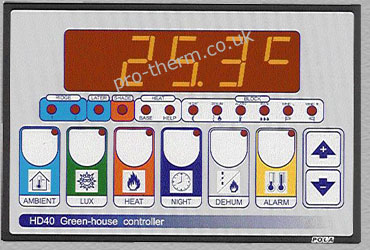 Downloadable instructions:

Advanced greenhouse controller for management of temperature and luminosity by controlling:
ridge windows,
lateral windows,
shading system,
environment and soil heating,
dehumidification,
management of the pluviometer and anemometer signal.
Also has high and low temperature alarm outputs.
By using the luminosity sensor there is the possibility to reduce the heating during the night phase, recording of historical data of working (recording of minimum and maximum temperatures).
Complete programme of windows opening and closing percentages and of shading of different conditions of dehumidification intervention, of rain block, left and right wind, night condition, morning opening, etc.
Waterproof keyboard with dedicated consumer keys, specific working lamps, protected programme of settings that permit a complete flexibility of working and personal belonging with the system to control.
It comes equipped with 3 temperature probes (environment, soil, limit and of a luminosity probe, that can be connected at distance (1.000 metres) with a standard two-poles wire, power supply at 230V and output contacts max 4AMP.
Inputs:
Greenhouse temperature
Soil temperature
Heating limit temperature
Luminosity
Humidity
Pluviometer signal
Left anemometer signal
Right anemometer signal
Outputs:
Ride windows
Lateral windows
Base heating
Help heating
Shading
Dehumidification
Temperature alarm
Pola HD97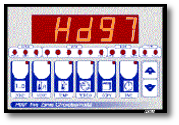 Downloadable instructions:

5 zone chronothermostat, 5 zones + pump
Pola HD98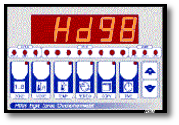 Downloadable instructions:

Chronothermostat, 8 zones + 2 pumps
For more information and pricing on any of the above please contact us.