Pola HP21 HP21a HP21b - 24v spray booth temperature control with 3 set points with SXA probe
*New version now available of HP21a, the HP21b. Please note difference in terminal arrangement if replacing a HP21a with HP21b. See manual below images for more detail.*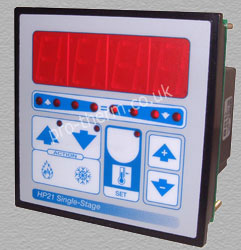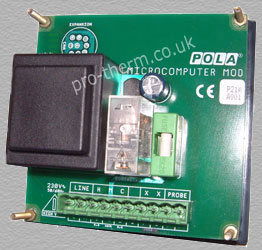 Downloadable instructions: Pola HP21a

Pola HP21b

*Prices exclude delivery
General Description
HP21a/HP21b is a 1, 2 or 3 set point, spray booth temperature control with 0-10Volts and relay output. It has been designed specifically to easily select between any of the different set points.
Main Features
2 of the terminals are assigned for remote set point selection by a switch, timer, etc. By either closing, opening or closing them with a 100 Ohm resister, the different set points may be selected.
For the user, separate temperatures may easily be set and then quickly selected by use of an external switch.
Alternatively, an external timer could initiate the different temperature set points automatically.
It has individual temperature calibrations for each set point.
A large 20mm display indicates temperature in C.
LEDs indicate condition of program and outputs.
Technical Specification
Power supply                                                               24VAC +/- 10%
Mains frequency                                                           50Hz +/- 20%
Power consumption                                                      4W
1 x fused SPDT Output Relay:
Resistive contact rating                                                3Amp 220V
Inductive contact rating                                                1 Amp 220V
1x 0-10v proportional output
Measuring range                                                         -50.0/125.0 Deg.C
Operating temperature                                                 -10/70 Deg.C
Overall dimension                                                         96x96x63 mm
Overall dimension (IP54 version)                                    98x125x75 mm