AKO-15724 - combined temperature and humidity logger/monitor/recorder and alarm - 2 channels.
SD/SDHC card, USB reader and 1 temperature sensor included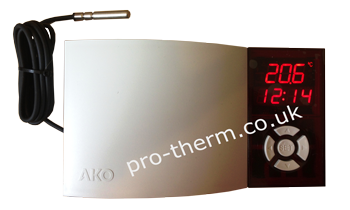 *Prices exclude delivery (Choose quantity at checkout, please call for 5+ discount)
Downloadable instructions:

General Information
AKO-15724 is a 2 channel data logger for temperature (using ntc sensors), humidity (via 4-20mA input), pressure (using 4-20mA input) or any other source which provides a 4-20mA signal.
It is configurable for 1 or 2 inputs, each input is configerable for:
NTC temperature sensor input (1 ntc sensor included)
4-20mA input (2 or 3 wire) such as humidity sensors or pressure sensors
Digital input (NO or NC)
Logging intervals can be set for 1, 5, 15, 30 or 60 minutes.
Data is downloaded from the logger using a SD/SDHC memory card (4gb SDHC card included) via the slot in the bottom of the unit. The data is recorded as a csv file which can be opened/imported in Excel.

- Click the icon to see the raw data from the AKO15724 imported to excel, for indoor and outdoor temperature monitoring (2 ntc inputs)

- Click the icon to see a chart produced using the data
The AKO-15724 also has an alarm relay and acoustic alarm.
Applications:
Cold store temperature monitoring/logging
Fridge temperature monitoring/logging
Crop/grain temperature monitoring/logging
Vegetable store temperature monitoring/logging
General temperature and humidity monitoring/logging