Pola HP36 - 4 stage ventilation control. Includes SX.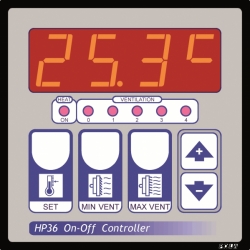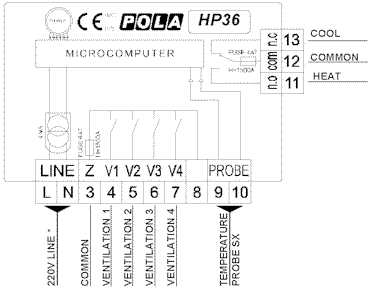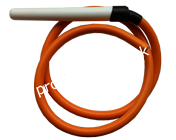 Downloadable instructions:

*Prices exclude vat and delivery
General Description
Pola HP36 is a 4 stage control for switching ventilation fans or steps of heating, in applications such as poultry houses. Programmable for step or sequential control.
An additional relay gives 1 addtional heat or cool output to suppliment ventilation/heating.
For poultry safety, a minimum ventilation cycle timer output exists to ensure a small amount of airflow exists under all circumstances.
Enclosures available are 96x96x58mm panel mounting or 98x125x75mm IP54 surface/wall box.
If your require a high and low alarm output as well please see the HP54.
Main Features
Temperature sensor supplied, -50.0/115.0 Deg.C or F
Adjustable ventilation temperature band.
Ventilation programmable, step or sequence action.
Set point adjustable relative to ventilation band.
Output LEDs show control status.
Removable terminal strips
4 output relays
1 heat/cool relay.
Technical Specification
Power supply                                                 230V +/- 10%
Mains frequency                                             50Hz +/- 20%
Power consumption                                        4W
5 x SPST Output Relays:
Resistive contact rating                                  4 Amp 220V - AC1
Inductive contact rating                                  2 Amp 220V - AC3
Operating temperature                                   -10/70 Deg.C
Overall dimension                                           96 x 96 x 63 mm
Overall dimension (IP54 version)                      98 x 125 x 75 mm