Manual reset Capillary thermostats - Over temperature limiter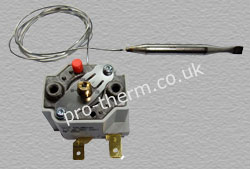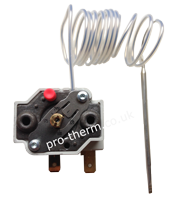 Downloadable spec sheet:

Manual reset capillary thermostat with slot adjuster to set the required temperature. Two ranges available 65/150 Deg.C and 100/320 Deg.C. Capillary length 975mm. Contact is NC and opens on over limit state.
The TB-M manual reset thermostat can be ordered pre-set for any temperature in the range 40-330 Deg.C. Minimum order quantities apply.
*Prices exclude delivery, for quantity discount please contact us.
| Model | Range | Capillary Length | Price ex.VAT |
| --- | --- | --- | --- |
| {Description} | {Range} | {Input} | {Price} |