Beta NTC thermistor IP68 rated temperature sensor probes 1.5m and 3.0m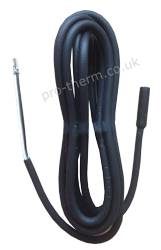 The Beta IP68 rated temperature probes use a 10Kohm thermistor. They are supplied with the Beta thermistor based thermostats and thermometers.
Resistance chart for ntc sensors:

PDF spec sheet for the sensor:

The cable length can be cut down or extended with 0.5mm2 two core cable with no need to re-calibrate.
To order quantities please call for discount.
*Prices exclude delivery
(Choose quantity at checkout, please call for 5+ discount)
Online order UK delivery only - please contact us for delivery outside UK.
| Model | Price (ex VAT) |
| --- | --- |
| {Model} | {Price} |