Sonder Allegro 453 Solar heating control unit thermostat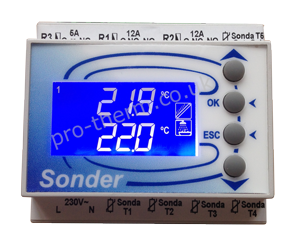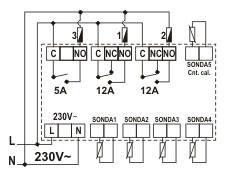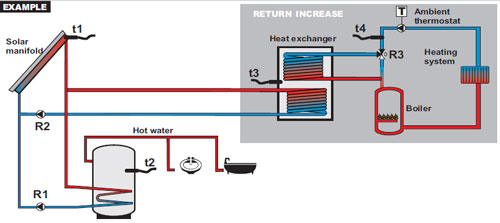 Sonder Allegro 453 (PN: 20.044) Solar heating control unit thermostat, 2x PT1000 probes included.
Downloadable instructions:

Description and operation
Antifreeze
This feature is intended for installations that use water as a heat transfer fluid to prevent frost in the circuit.
Independent thermostat
Allows you to adjust the temperature at a location (heating, radiant floor heat,...) independently to the functioning of the System. It has 3 different independent thermostat functions by number.
Room thermostat
It allows you to install one or two thermostats (MODERATO SR) for remote adjustment of your installation through which will regulate the room temperature without having to configure the setpoint of temperature change from the Allegro.
Increased temperature of the circuit return
With the return increase function you can control a valve to divert the course of the domestic hot water circuit to return the heating circuit temperature increases, this allows you to take advantage of solar heat from the battery to heating. Solar energy will preheat the water coming from the heating system before you add what is missing with a source of support, is a boiler or resistance.
Cooling air heater
It allows you to decrease the temperature of a device using the circuit recirculation or a cooling device,
When it detects that the device temperature is above the temperature of the circuit it activates the configured relay.
Alternation of double pump
This feature allows you to select a pump in your installation so that they work alternately between them.
OR
The status of a relay based on the state of any of the selected relays in operation. For example: If you choose as a slave relay the R1 and R2 and R4, the R1 main relay turns on when R2 OR R4 are switched on. When they are all turned off, the relay slave switches off. Running after AND.
AND
The status of a relay based on the status of all the selected relays in operation. For example: If you choose as a relay slave the R1 and relays main R2 and R3, the R1 will turn on when R2 AND R3 are switched on. When any of the main relay is off, the slave relay is switched off.

Energy counter
Measures the amount of power supplied to your installation by the solar collector by reading two probes, one in the entrance and another at the exit part of the installation that you want to control and pulse input. It does this by measuring the flow rate of the installation.

*Prices exclude delivery (Choose quantity at checkout, please call for 5+ discount)